2nd Bracknell Cub and Scout Summer Camp 2021
Well, where do we start………. It is amazing that we got to go away this year at all with the ever-changing COVID restrictions…. Freedom Day…. Not really Freedom Day… New Freedom Day….
So, to start with unfortunately our Group camp got reduced to a Cub and Scout camp due to restrictions on Number and mixing of sections. It was with a heavy heart that we had to cancel our Beaver and Explorer sections and only travel with Scouts and Cubs and a band of Merry leaders and Kitchen staff.
We got off to a good start by being able to load the trailer at the hut in the dry which was a nice bonus …. But this did lull us into a false sense of security as we were in for a wet and windy week, and I am not referring to the baked beans and spaghetti hoops at breakfast……
We set off on our adventures to Blackland Farm just south of East Grinsted in West Sussex.
Camp was setup and the week began……..
Once we had settled in, we waited for the Cubs and Scouts to arrive.
The week started with the Scouts cooking Breakfast
Then the rain began….
And it rained a bit more …..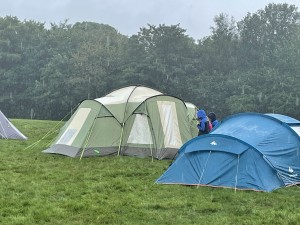 But being resourceful scouting types we did not let a little wet weather spoil our fun.
Next we had some rifle shooting where fun was had by all (Thanks to Derek Salter for giving up his time and being our instructor).
We had fun doing Pioneering, First Aid escape rooms and photography over the week in small Groups.
We did Archery (Thanks to Alan for being our instructor) Well done to Phaona for Scoring 49 out of 50)
We had a 4.5 mile hike to and from the Bluebell Railway where we got to see the Steam trains and have an ice cream. The Scouts did a slightly longer route.
We also had a great day at the beach. Enjoying Fish and Chips and sweets…..
Some tired Leaders…….
The following Day we did some zip lining
Over the week we had camp fires…. We even got the kids to shower a couple of times (That was probably a couple of times more than some of the leaders….)
We made the best of the conditions even rebuilding the Event shelter when it got blown away and smashed to pieces……..
We finished the week but the Scouts saying goodbye to some of their members as they moved onto Explorers and some will also become young leaders.
We had another amazing camp hopefully all of the children had a fun time with many stories to tell. We did not let the weather defeat us.
Thank you to everybody who helped organize and arrange this camp.
Neil and Chris for being the camp leaders and putting most of the organization into it. Al for helping with all the risk assessments. Patrick, Alan, Felix, Natalie, Ben and JD for being there all week….. Euan, Andrew and Tanya for their help during the week. Steve R and John for their efforts in the kitchen… it is no easy task keeping 40 people fed and watered for a week. Steve Prower for driving the trailer down and picking it back up again. The Quartermasters for making sure we had the kit we needed and for helping us put it all away nice and clean.